February 9, 2017, from February 2017 issue of Traverse, Northern Michigan's Magazine.
Challenge Mountain, a mostly unheard-of, no-frills, private ski lodge in a remote corner of Charlevoix County, is a humble place. But it deserves a spot with the Sleeping Bear Dunes as one of the North Country's most beautiful locations, not for the steepness of its slopes or Kodachrome sunsets, but because of who goes there. The clientele and the people who run the operation are extraordinary.
Nearly 2,000 kids and young adults with a wide range of physical and cognitive disabilities visit Challenge Mountain every year for a chance to do something many other people take for granted—enjoy the outdoors and push themselves physically. For these athletes, a day at Challenge Mountain offers a rare treat.
Some arrive in vans. Others in buses. They all go home tired and happy. Tom McCullough, a Charlevoix resident with Down Syndrome, has been skiing at Challenge Mountain for years. "I love to ski here," says the engaging 40-something with the big smile. "I learned to ski here when I was very little. I was scared then. But not anymore."
As anyone who has tried the sport knows, skiing can be tricky to learn. Some of the technical aspects, like turning a corner, seem counterintuitive. Consider what it's like, then, for a blind and deaf person or someone with seriously impaired motor skills to stand on that hill and have faith that he or she will reach the bottom. It takes extreme courage. And these skiers seem to find it.
First-time skier Noam Raphael, a 21-year-old student at Washtenaw Community College who has balance difficulties as well as vision and hearing loss, was asked during a brief rest from the slopes whether he'd return to Challenge Mountain. "Yes, I liked it," he said emphatically. "Going down the hill, it's not scary at all."
That is a typical reaction. In the lodge or outside, you hear, "Let's go do it again," but almost never, "I want to go home."
Challenge Mountain serves a population with a wide range of disabilities—blindness, deafness, Down Syndrome, cerebral palsy and spina bifida. Participants come from all over Michigan, often accompanied by family members or as part of a group trip. Everything is provided at little or no charge—from a simple lunch to full ski gear.
And word is getting around. The non-profit organization now serves new populations. "We're starting to get more spinal cord injuries, some stroke victims [and clients with] muscular dystrophy and autism," says executive director Elizabeth Looze.
On a Saturday in early February, some 30 blind and deaf children and young adults, along with roughly twice that number of family members, spent the day skiing, having lunch and warming up in the lodge. The day starts with volunteers fitting all skiers (including an occasional friend or family member) with the basics—helmets, goggles and boots. First-time volunteers from Central Michigan University—all of them psychology students—are helping out. Then it's a matter of assessing individual needs and finding the right equipment. Challenge Mountain owns an impressive array of adaptive skiing equipment.
All of that takes some time, but once all the equipment issues are settled and everyone gets closer to hitting the slopes, there's a palpable, mounting sense of excitement.
It's time to ski. A fast-moving snowmobile ferries skiers up the long, wide ski run. That trip itself is part of the fun. Then safety equipment is double-checked. And it's time to take off.
In most cases, a trained ski instructor accompanies the skiers the whole way to the bottom of the hill. A few of the more physically able participants—especially those who've already learned to ski well—go it alone down the slope to the lodge. The attitude at Challenge Mountain is that with the right equipment and help, any visitor can experience the slopes in some fashion. To be sure, the whole experience is about fun. But in a deeper sense, there is more going on here. The Challenge Mountain motto, "Great Things Happen Together," makes it clear: This day is also about building confidence. It's a unique chance for these skiers who face major challenges every moment of their lives to demonstrate to themselves—and to their families—that they can succeed at a difficult task.
One of the main goals of the whole experience is to strengthen families. "A lot of parents just can't believe their child can do all this," says Looze. "It makes them so happy. Normally, they're so busy being caretakers. They're forced so often to say what their kids can't do, instead of seeing what they can accomplish. A lot of parents are just blown away."
That was clearly the case with Noam's parents, Yoash and Donna Raphael. "This is an amazing place," says Yoash. "Look around! Everyone has a smile on his face—from babies to grandparents. There's attention without tension."
It takes more than a lot of snow, a big hill and the right skiing equipment for Challenge Mountain to succeed. About 35 well-trained, exceedingly gentle and highly dedicated volunteers—with a dozen or so on any given ski day—make the whole experience fun and safe. Another 115 offer support off the hill and in the store.
Whether out on the slopes or in the lodge's small, busy kitchen, these volunteers make the Challenge Mountain experience what it is. They come from all walks of life—teachers, engineers, executives. Many have volunteered for decades. Some are the parents of disabled offspring, which is the case with longtime board member Mike Hurchick, whose (now grown) daughter, Angela, has Down Syndrome. Hurchick's commitment to helping break down barriers for the disabled goes back more than four decades.
"Back in 1974, the barriers were even higher than now," he says. "At that time, people with Down Syndrome were institutionalized. I had to go to court to get [Angela] educated."
What all volunteers seem to share is an extremely patient approach with everyone involved. That's not to say, though, that anyone is coddled. As the name implies, the idea is to challenge. "We're here to help them push themselves as far as possible," says Bill Aten, a retired math teacher and high school principal in Boyne Falls. "If they can ski on their own, we let them. The hard part for instructors is finding that right balance—deciding what they can and cannot handle."
It's not always easy work. So why do so many volunteers return year after year? "We like to see them succeed. That's where the win comes for us," Aten says. "The giggles and grins—that's the payoff. I got hooked by seeing what kids and adults with special needs can accomplish through skiing. They see there's more in life.
"It took only one day of volunteering out here to set itself in me," Aten says. That was 10 years ago. He now serves as board chairman of Challenge Mountain.
Many participants and the families return year after year, which is the case with 26-year-old Jacob Hartshorne of Mount Pleasant, Michigan, who has skied a dozen times at Challenge Mountain. Jacob suffers from CHARGE Syndrome, a genetic condition that causes deafness and blindness.
"Jacob uses a few signs, pictures and behaviors that let us know what's going on," says his father, Tim, a psychology professor at Central Michigan University and the person who brought the CMU students to Challenge Mountain. "At first, Jacob didn't want to go on the slope. But he did it anyway. And he liked it and wanted more. In fact, now he leads us back out to the slope."
Over the years, Jacob has graduated to "ski legs," a walker-like device that for safety reasons can be tethered to a ski instructor. The Hartshorne family has several reasons for returning each year. "First of all, Jacob enjoys it, which is the most important thing," says Tim. "And we see some of our friends from all over the state. We like the atmosphere—it's busy but comfortable."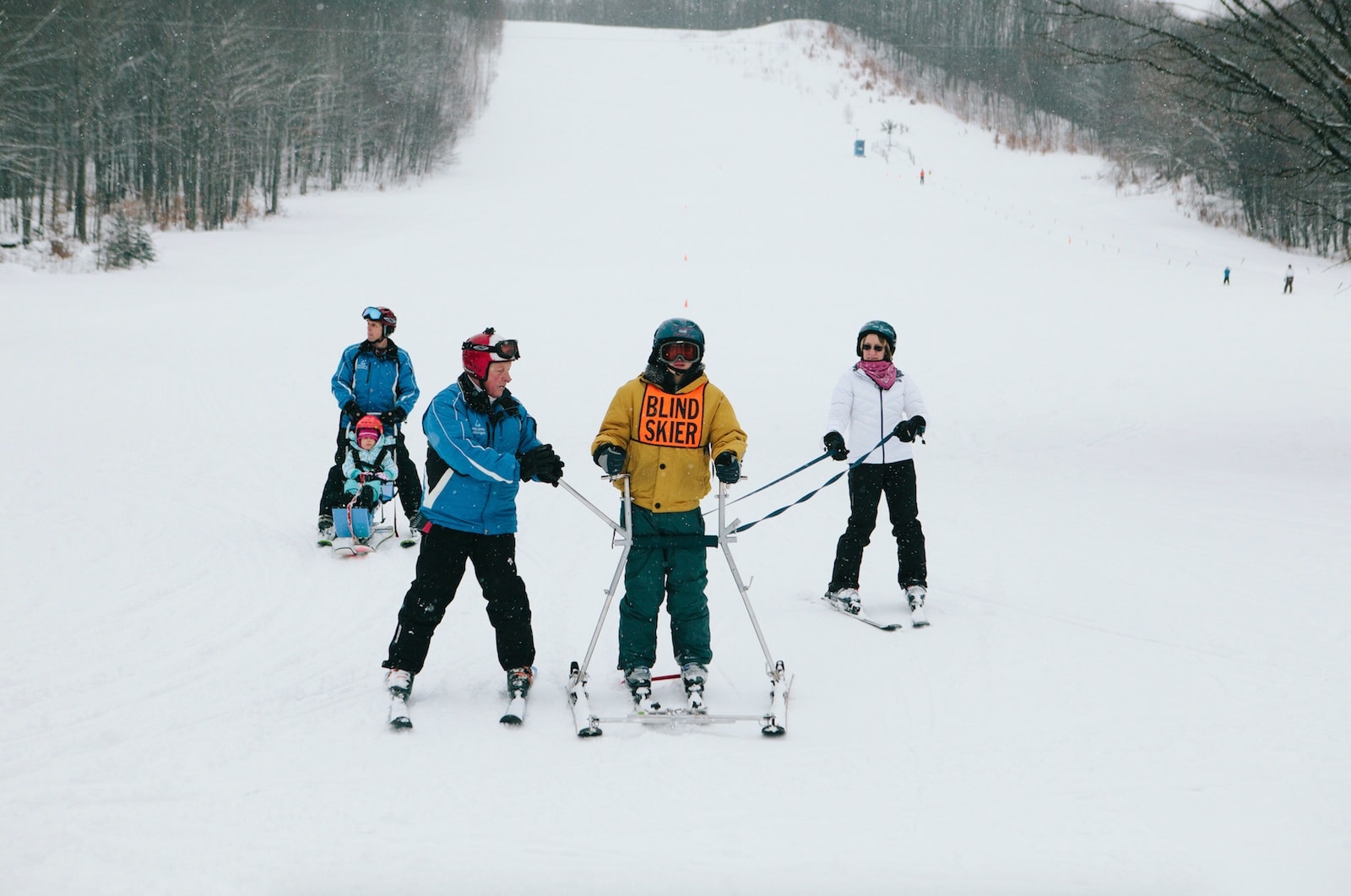 Like many nonprofits, Challenge Mountain survives through grants, donations and special fundraising events. About three-quarters of annual operating funds come from its resale store, which sells donated household items, clothing, furniture, sporting goods, books and electronics—all of it, Looze says, in good condition and reasonably priced.
Until June 2016, the store was located in a funky old building that Looze says was "basically falling down around us." That changed last year when Challenge Mountain raised $215,000 to renovate a larger and better-insulated building in Boyne City. Within eight months the building was funded and renovated, and a lot of volunteer hours were spent doing demolition and construction.
Another positive sign of Challenge Mountain's future is the growth of summer programs in recent years. "A big plus was hiring Linda Armstrong, the first professional program director in our 30-year history," Looze said. "That has led to a lot of expansion." In addition to managing the winter activities, Armstrong leads summer programs in kayaking, sailing, swimming, biking and Spirit Day Camp.
During the winter months, Challenge Mountain helps prepare athletes for the Special Olympics, works with numerous statewide organizations like the Deafblind Project and hosts the Great Lakes Burn Camp.
Whatever the future holds for Challenge Mountain, volunteers will remain the heart and soul of the organization. "They're dedicated and always willing to give of their time. Most of them came out once and fell in love with what we're doing," Looze says. "A large number of them help in the resale store, some work at special events, and of course others are involved in the ski instruction and summer programs."
Longtime volunteer Terry Baker, who runs the ski lodge kitchen, is an example of that dedication. In addition to organizing meals for as many as 100 people at a time, she organizes a month-long Halloween fundraiser that features a haunted castle. She has even organized her own group of volunteers to help with the event, which raises $7,000 or more each year—enough to pay for food during the winter programs. Her attachment to Challenge Mountain is based on deep, personal reasons. "I used to come out to Challenge Mountain with my daughter, Brandy," she says. "Now that Brandy is no longer with us, I come out because I feel like a part of her is still here."
Volunteers throw themselves into the tasks at hand.
"We explain to new volunteers that there's tired and [then there's] Challenge Mountain tired," says Dave Maulsi. "When I get home [after Challenge Mountain] and do a swan dive into my hot tub, I know it was a good day."
Photography by Andy Wakeman
View the article at MyNorth.com